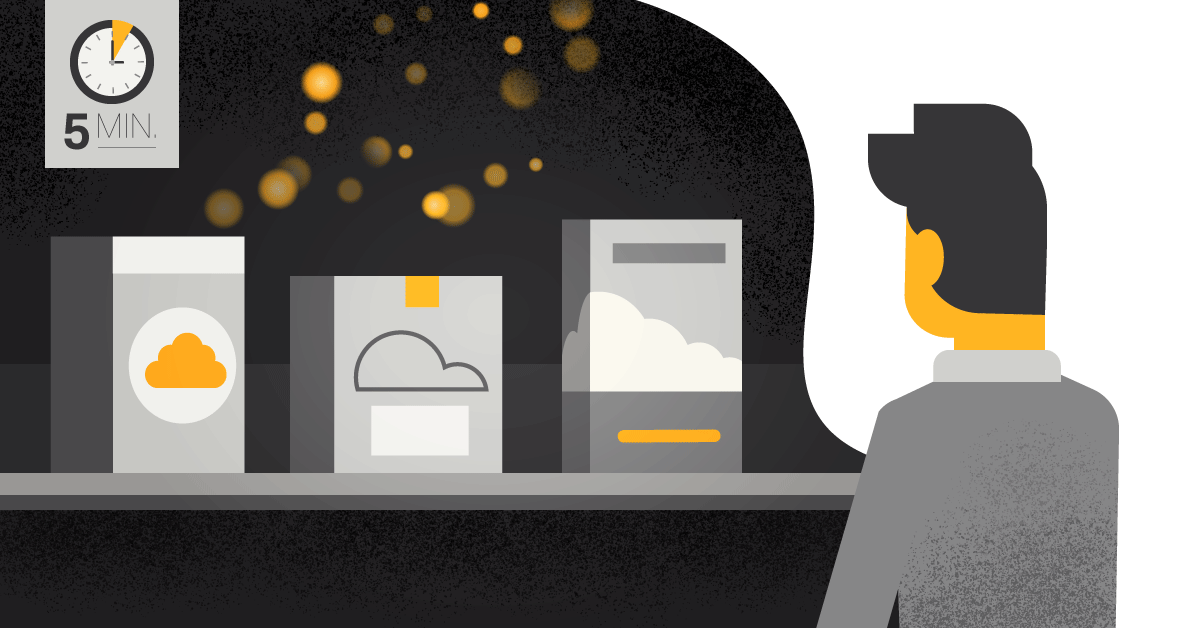 Dedicate 5 minutes to learn more about the advantages and differences between the three largest cloud vendors.
Cloud computing has turned our way of working with IT upside down, and for most, it is not a question of cloud or not, but instead how to do it and who to choose. This article takes a closer look at the benefits and differences of the three main vendors: Amazon Web Services, Microsoft Azure, and the Google Cloud Platform.
Today, the cloud is an indispensable part of a modern IT infrastructure. These are high-performance and complex platforms that can be used as if it were your data center - dynamic, flexible, and secure. And scalable at a level that would be difficult to match for a conventional, on-premise data center.
Therefore, it makes sense many have invested massively in their cloud capacity. Today, three vendors stand out amongst the top vendors, namely Amazon Web Services, Microsoft Azure, and Google Cloud Platform. All three vendors offer a complete portfolio of services and a high degree of security. So, which vendor is the best one for your cloud journey?
Let's get one thing straight; all top three vendors can help many companies and organizations that desire to take advantage of the cloud. They continue to innovate and reinvent themselves which is why I suggest we take a historical look at which clientele each vendor attracts in order to make the comparison and assist in finding the right match.
My hands-on comparison of advantages and differences is based on the largest and oldest of the three cloud vendors:
Amazon Web Services
It was way back in March 2006 that Amazon launched its web services with both Simple Storage Service and Elastic Compute Cloud. The idea was to offer a kind of 'operating system for the Internet' based on Amazon's strong muscles within IT infrastructure. Thus, AWS gained a first-mover advantage, and this lead has lasted until today when AWS is the largest of the top three providers.
AWS has attracted companies and organizations that have been technically heavy and have typically developed proprietary applications. Historically, there have been many Linux-based development companies among the customers, and you can extensively tailor your infrastructure services to your requirements and needs.
Perhaps AWS has had a little less focus on hybrid solutions, where you mix public cloud and on-premise data center, but today you can build hybrid solutions with AWS as provider and platform. It's a very mature platform, and if I have to mention one challenge at AWS, it may be the sheer volume of choices that can seem overwhelming - especially if one is new to the application of cloud technology.
Microsoft Azure
In 2010, Microsoft came onboard with Azure, and from the beginning, it was set out to be the most prominent choice for companies. If your company or organization is based on a Microsoft platform, then the leap to Azure is evident, and the migration itself is made easy.
It is no secret that Microsoft holds a dominating market position. In several of Microsoft's products, there is almost a 'built-in button,' so you can integrate with Azure very easily and quickly.
Azure is the 'safe bet' because everything is so well-integrated, but make no mistake: Microsoft has long embraced both open source and Linux, and Azure is the right choice for a hybrid solution. Today's Microsoft is open and integrated, and therefore it is a solution that embraces a wide range, although development is sometimes almost faster than the documentation can keep up with.
Google Cloud Platform
Launched in 2011, Google is the youngest vendor, but has claimed a stable market position. If you want to draw a profile of Google as a vendor, you can also look at who has historically chosen GCP as a cloud vendor. It has typically been a very development-driven companies because Google is traditionally a favorite among many developers.
For example, Google has developed the Kubernetes standard, which both AWS and Azure also offer, and Google is strong in data analytics. Also, GCP can ensure close integration with Google's services in the processing of Big Data and various data sources.
If we look at the downside, the Google Cloud Platform may not offer precisely the same breadth and depth of services. Still, it is essential to emphasize that there is a plethora of options for most companies and organizations.
Comparison of AWS, Azure and GCP
Amazon Web Services:
Dominating market position
Extensive and mature product portfolio
Support for larger organizations
Less focus on hybrid solutions
Overwhelming amount of options
Microsoft Azure
The clear runner-up
The obvious choice for MS companies
Solid integration with MS applications

Great for hybrid solutions and open source
Google Cloud Platform
A favorite among developers

Tight integration with all Google's services

Leader within data analysis and Big Data

Fast response times and scaling options

Not the same width and depth as the others
A strategic or tactic decision
Now, there have been profiled the three biggest cloud vendors by looking at the clientele and what that reveals the advantages and differences. There are basically two paths to take in the decision of a cloud vendor - strategic or tactical.
The strategic decision is usually the direct approach where, as an example, if a company is a Microsoft house and, as a part of the policy, chooses cloud with Azure. Or maybe the company is development-driven where Google is the natural choice from a management perspective.
The tactical approach means to choose only one vendor or based on a mix of several pragmatic reasons. Maybe there is a need to invest in a specific type of software or another solution that is connected to a particular cloud provider.
On the other hand, the developers prefer a specific platform where there are several providers.
Either way, there is no right or wrong in the decision-making process. Each organization is unique, and the decision needs to strengthen the company in the best possible way.
Making an informed decision
In the end, how do you decide which of the three providers is the best match for your organization? It depends on different questions:
Are you at the beginning of the cloud journey and want an overview?
Are you already using different cloud providers and searching for an assessment?
Is the development process in in your company complex and requiring special tools?
Are there areas in your company that already have Microsoft solutions?
Do you work a lot with data analysis, Big Data, and Google's many tools?
Have you set your mind on a hybrid solution?
Do you apply specific tools like Kubernetes or similar?
There is no way around finding and understanding the actual requirements before deciding on a cloud vendor. Going deeper into the needs will reveal the most relevant factor; the costs. It can be a challenging job itself to compare costs when investigating the complexity and costs between the cloud vendors.
There can be both advantages and pitfalls hidden in the cloud providers' pricing. It can be quite resourceful with an independent partner who can find the most advantageous combination and solutions based on the specific business needs.

BY
Head of Public cloud at Sentia with many years of experience in the IT industry from, among others, Cloudeon, Crayon, and Hitachi Vantara. His work covers business development and management - and his professional consulting is valued greatly among customers and his Team. As Head of Public cloud, Henrik works with particular attention to execute the customers' digital transformation and control their business' cloud infrastructure.