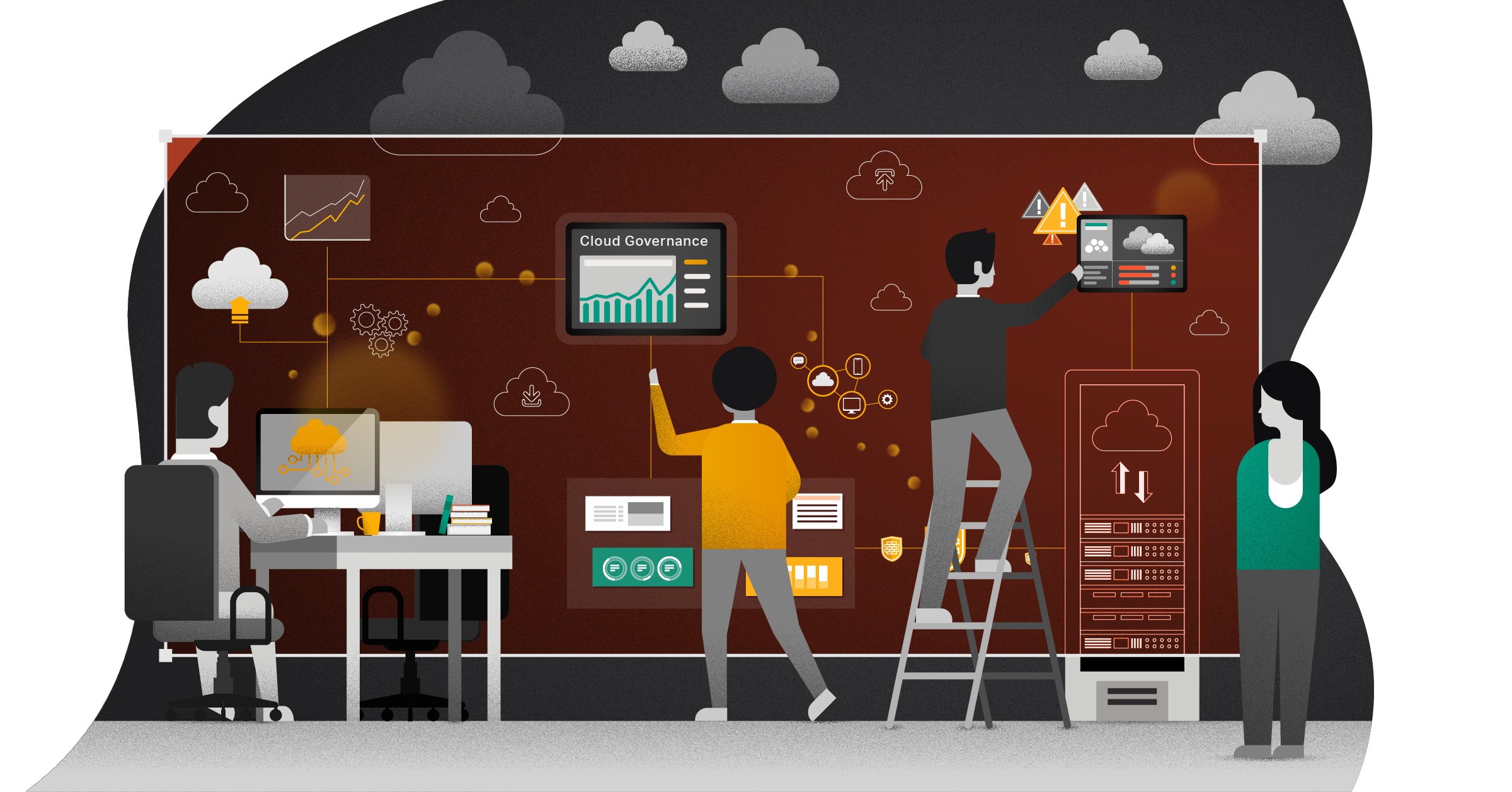 Cloud governance and community consensus are important functions of your Cloud Center of Excellence. According to Tim Roelse, Digital Transformation at Sentia NL, optimal governance is a matter of striking the ideal balance between agility and security – and sticking to your purpose. In this article, he elaborates on the subject.
How do you organize yourself and get your business ready for the cloud? How do you structure your organization so that everyone can get the most out of the journey to the cloud and the future cloud-based development and operations?

Excellent governance is the overall concept for the approach and the tools needed to manage the process optimally. If you want to benefit from the responsiveness of the cloud infrastructure without having to make compromises regarding the need for data security and compliance, then a robust, organizational framework is indispensable to reach the goal.

In addition, it is worth remembering that the cloud environment itself is also constantly evolving. It requires both hard and soft skills to function in that context and to be able to seize the opportunities for application and business development. It is more necessary than ever to hold on to your purpose as a guideline for your actions.
Governance is more than just guidelines
The cloud journey is driven by purpose, people, and technologies. Therefore, good governance is not only a matter of setting up basic rules and guidelines as it usually requires a wider spectrum of tasks to achieve your goals. Like driving a cloud-native culture and aligning your cloud strategy to business objectives and IT strategies.

These tasks are often taken care of by a Cloud Center of Excellence which is either established in the company driven by internal resources, handled by an external partner or as a mixture of both. This brings us to the people-part and the need for both soft and hard skills to facilitate cloud adoption and operations.

Basically, employees and organizations must be ready to seize the opportunities in the cloud without letting security spin out of control. So, the balance between agility and security can also be expressed as the balance between opportunities and risks. Where is your organization on a scale between opportunity-driven and risk-avoiding?
The role of the Cloud Center of Excellence
In short, a CCoE can be defined as a group of cloud experts who can take leadership, define best cloud practices and constantly drive the cloud adoption forward. Whether your CCoE is based on internal resources only or also uses external cloud experts, it serves as a framework for establishing good cloud governance.

Governance is a crucial function in the CCoE, and it goes beyond merely 'maintaining control' and managing costs. Getting cloud governance right depends on the entire organization's approach to cloud adoption, on the structuring of resources, the right alignment between business operations and IT, and on the requirement for compliance and security.

But having said that, the CCoE must also ensure good governance through the establishment and maintenance of the adopted company policies, guidelines, guardrails. strategies, tools, and administration. Other tasks include centralized and shared services, best practices and more.
Community consensus unites stakeholders
So far, we have touched on issues such as cloud governance as the overarching concept when keeping the cloud process on track plus the establishment of a Cloud Center of Excellence and the whole set of policies and guidelines that make the company ready to make the most of the journey to the cloud.
But how do you create the all-important agreement to best prepare the organization for a new, more agile and changeable reality?
Community consensus is a key concept that serves to unite all stakeholders on the same purpose and the same direction of action. This requires establishing a digital platform where users can share experiences, organize events, and publish lessons learned. You may consider tools like:
A 'Community' of practice
Organization-wide cooperation
Knowledge sharing
Code sharing
Training sessions
Change Management
Community is thus a matter of organizing the processes so that 'everyone is on board', and everyone involved has the right prerequisites to contribute to the solution. This can be remedied through widespread automation, which makes the work easier for the developers, comprehensive controls to keep processes on track, as well as preventive controls that define what, for example, a developer may or may not do.
How to get a grip on cloud governance
It can be a difficult task to map out where your organization currently is in relation to being opportunity-driven or risk-avoiding. It can also be a challenge to ensure the best cloud governance features to strike the right balance between agility and security. And finally, it is far from certain that it is an advantage for you to have the necessary internal competencies to secure governance, the establishment of a CCoE, and the best possible utilization of the cloud opportunities.

Taking advantage of a neutral managed service provider like Sentia, can help you map out where your organization is in relation to the endless possibilities that the cloud offers. We are independent of the major providers and can therefore advise you objectively on how to make the best use of the opportunities and still keep costs on track. In addition, we can provide certified experts and access to large customer agreements with e.g. Microsoft Azure, AWS and Google.
_____
Lead the way in your cloud governance
Get in control of your cloud governance no matter your context with these resources covering valuable insights and best practices from our cloud experts for you to lead the way in your cloud governance.