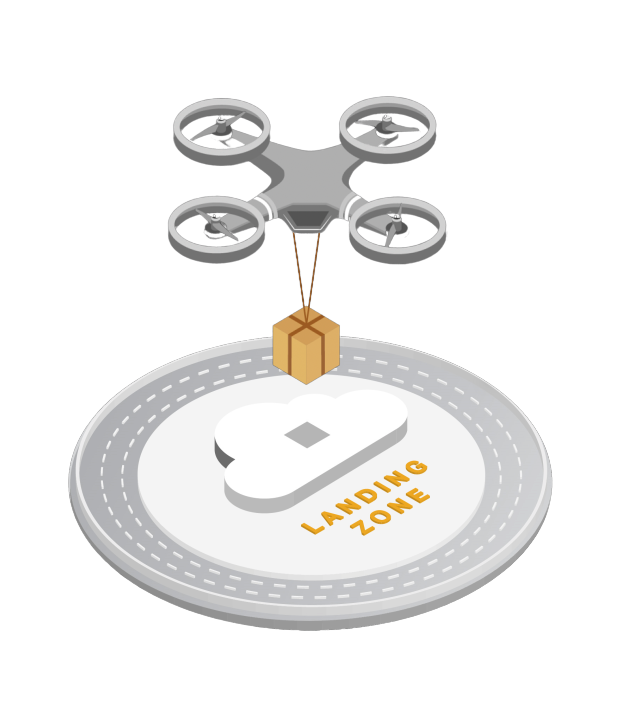 IT developments follow each other in rapid succession, as do new products and solutions. This section briefly explains what a product or solution does and in particular, how your company can use it.
What is the Sentia Landing Zones Console?
The Landing Zones Console is a unique application developed by Sentia, which allows a company to set up and deploy landing zones for its customers. Within secure cloud environments created via the Landing Zones Console, developers can, amongst other things, design and build complex infrastructure-as-code projects, perform automated deployments and develop CI/CD pipelines on AWS and Azure.
What can you do with the Sentia Landing Zones Console?
With the Landing Zones Console, Sentia supports organizations in successfully migrating to and managing the public cloud. Migrating business processes and applications to the cloud is often a cumbersome process, where many factors must be considered. In particular, migration can be very difficult for an organization that has insufficient cloud expertise or simply lacks the manpower to set up a cloud environment properly. In addition, a cloud environment can consist of hundreds of accounts (AWS) or subscriptions (Azure), making it difficult to manage.
What are the product specifications, what does the solution consist of?
The Landing Zones Console is a suite of IP-based technologies and processes that set boundaries for a public cloud, making it more secure, controllable and easier to manage. High-speed deployment capabilities and pre-defined layers ensure that cloud services can be deployed securely. Examples of these layers are: the Security Layer (applies stricter security requirements and sends alerts on security issues), the Audit Layer (logs all operations in one account and stores them, encrypted, in another account) and the Restricted Public Access Layer (automatically detects and closes open buckets and ports).
How does the Sentia Landing Zones Console work?
With the Landing Zones Console, Sentia provides full control over the development and management of public cloud environments within tailored frameworks. Sentia can use the Landing Zones Console to create multiple landing zones with the same guardrails and rule sets. In addition, the console ensures that accounts cannot simply be deleted. Compliance is therefore guaranteed within the infrastructure for secure innovation. The application also offers more control over DevOps by managing consumption, speed, access and permissions. This prevents expenses from skyrocketing unexpectedly.
What does the Sentia Landing Zones Console offer an organization?
With the Landing Zones Console, Sentia can simplify organizations' proof of concepts and complex cloud migrations. It can also help them to customize a landing zone to their individual needs. A migration to the (public) cloud can take months and raise many questions, especially if there is insufficient in-house knowledge about migrating to the cloud. Deployment of the Landing Zones Console provides secure frameworks and full control over this process. It offers developers the freedom to innovate, while controlling the costs of doing so.
How does the product / solution stand out from the competition?
Sentia's expertise, pre-set layers, rapid deployment capabilities and high degree of standardization make this a unique solution.
Sentia was the first party to develop such a landing zones application, even before Microsoft and Amazon brought their respective solutions to the market. In addition, the Landing Zones Console offers more functionality than AWS and Azure products do out-of-the-box.
Sentia is regularly tested according to Microsoft and Amazon guidelines. It is one of the world's few Managed Service Providers (MSPs) to hold expert certification from both Microsoft and Amazon.
What are the benefits of the Sentia Landing Zones Console?
The Landing Zones Console simplifies cloud migration via a customized landing zone. This landing zone offers full control and management, freeing developers to innovate while guaranteeing costs and security stay within set limits.
Are there any drawbacks?
A balance between unbridled development and security can also have some disadvantages. With the Landing Zones Console, Sentia can offer organizations more security, however it can be at the expense of freedom of movement. Less strict guardrails apply within development and sandbox environments. In acceptance environments these guardrails are slightly stricter, while the most stringent ones are found in production environments. This model is less suited to organizations requiring the freedom to make unlimited changes.
Is there anything else to take note of?
Sentia was the first party to develop and market its own landing zones application. AWS has always shown a lot of interest in Sentia's solutions. The development of Sentia's Landing Zones Console may have signaled to AWS that solutions were needed to securely manage accounts. In fact, it may have inspired their activities in this area.