ThiemeMeulenhoff is transitioning from a publisher of schoolbooks and supporting material into an educational model designer. With the sounding success of its 'e-education' solutions, ThiemeMeulenhoff focuses more and more on its digital solutions for interactive, innovative education methods.

The data is created by its own editors, many contributing publishers, but also by students and teachers through their digital interactions. ThiemeMeulenhoff became the owner of an already huge, and quickly growing data landscape. This however presented a new challenge: how to manage this much data (e.g. correctly process newly added content), and ensure that the platform will keep up with the expected growth?

Designed for extreme growth

In 2017, already two million users consumed and created content, and ThiemeMeulenhoff regularly signs up additional customers. Its data footprint already count an impressive 1.5 TeraByte and it continues growing. The AWS-based architecture hence is designed
to scale.

For example; the main data storage is based on AWS DynamoDB, a 'NoSQL' database service that performs extremely well at any scale. It grows effortlessly in step with the dataset, Better still; where traditional databases require more management as these grow, DynamoDB remains nearly maintenance-free since it automatically performs tasks such as cluster management, Instance Failover, and data partitioning.
The AWS services in themselves already allow for enormous growth, combined with Sentia's drive to automate, scaling up really becomes a non-issue. Evgeny Barannikov - Cloud Implementations Consultant Sentia
A third way that ensures the platform will keep up with the growth is the combined use of two other AWS services.
Changes in the datasets automatically trigger a 'Serverless Function' from AWS Lambda, an equally scalable, 'hands-off' service that we here use to recognise any content changes in the database;

Lambda sends its output to AWS Elasticsearch that builds indexes of the content for later retrieval and processing. Similar to the other AWS services mentioned above, it is hugely scalability and needs very little maintenance whichever the scale...
'Added value' of Sentia to this solution

Running a simple environment on AWS is one thing. Building a full business on it, is quite another. Sentia adds an additional layer of automation from its HalloumiTM management suite; it greatly simplifies the release process of the customer's software and our Infra-as- Code. This speeds things up dramatically and further reduces the chances on any Human Error.

Halloumi's template-based automation means that all customer requirements, including those on scalability, are built into the 'mother templates' with which the Public Cloud components are created and maintained. This ensures that we consistently help our customer reach its business goals, since the corresponding technological requirements are engrained in these building blocks!
Sentia's added value is found predominantly in that they really know our business, and proactively watch over things. Frans Guldenaar - Service Delivery Manager ThiemeMeulenhoff
Mr. Guldenaar furthermore explains some non-technological benefits of working with Sentia. "Sentia's added value is prominently found in that they know our business and keep a proactive eye on things. That makes them even more of a partner, since we can ask a question and handle it there and then – just like we would with a direct colleague. The benefits of our cooperation with Sentia for our users are primarily the stability and performance."

Technical highlights
A fully 'Greenfield' environment, but with a 150 TB data migration.
Three main sections: Content Management, Search (an Autoscaling API), and Rendering to prepare uploaded video content for various devices.
100% CI/CD environment, and 100% Infra-as-Code (template-based infra). Built in accordance with AWS Well-Architected Framework and its Security Best Practices.
Also complies with various other Best Practices and Sentia's own standards:


Our 'Design for Failure' strategy, honed since 1999;
AutoHealing to raise the overall availability;
AutoScaling to deal with peak loads;
Encryption of all data traffic in transit.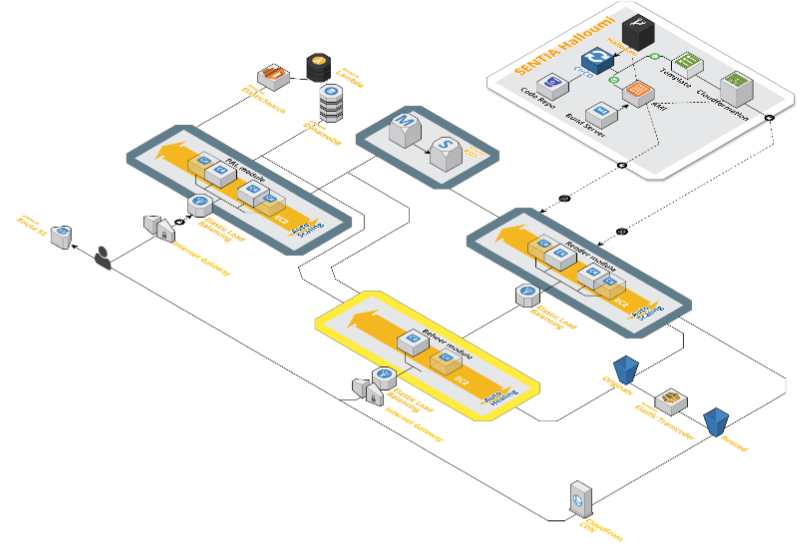 Main AWS services used
Route 53
Auto Scaling Groups
Application Load Balancer
DynamoDB
Lambda
ElasticSearch Service
Relational Database Service
Simple Storage Service
CloudFrond
Supporting AWS services
Identity & Acces Management
CloudFormation
Trusted Advisor
CloudWatch logs
CloudWatch metrics
CloudTrail