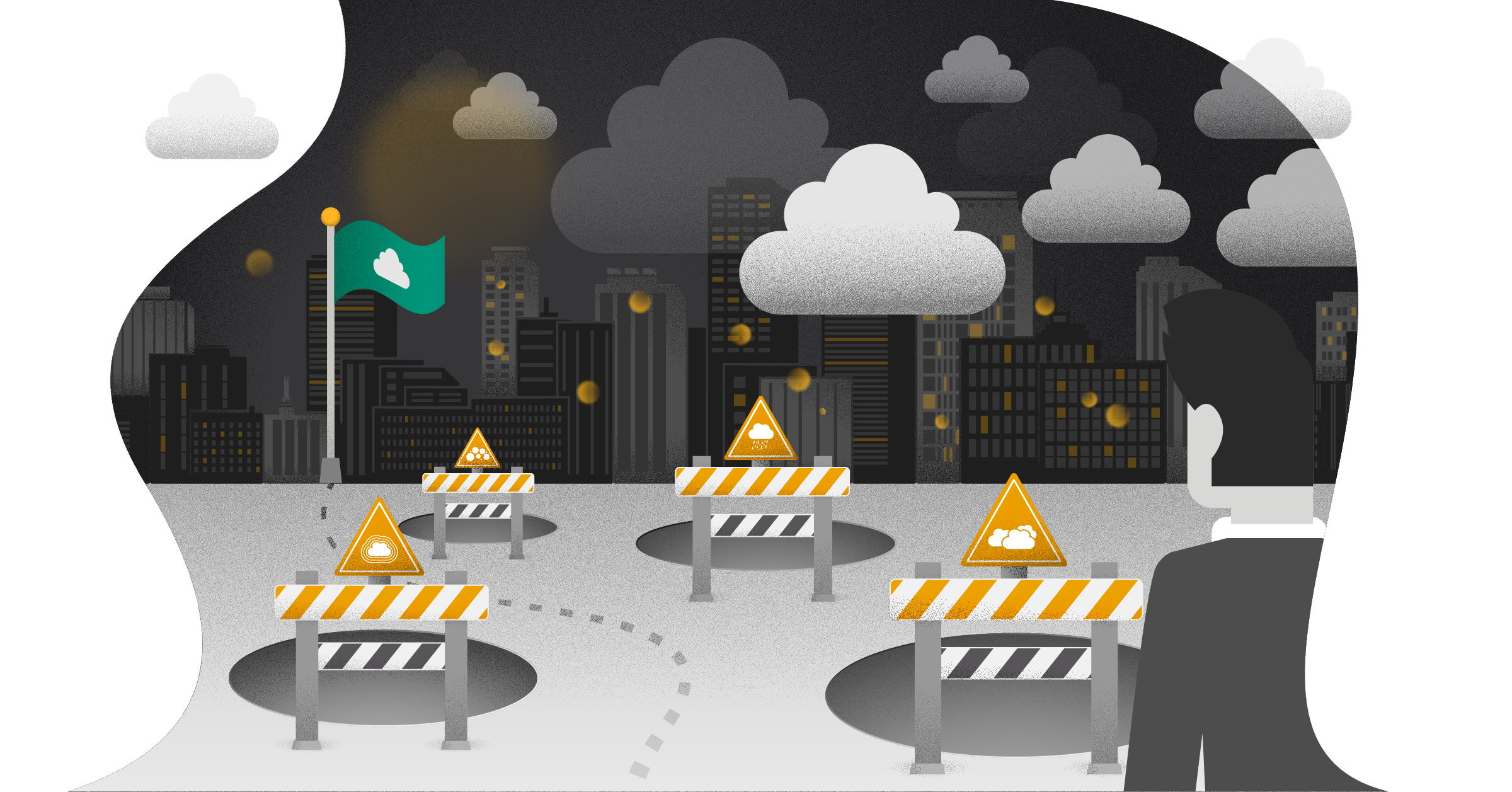 Navigating your cloud journey requires constantly keeping a lookout for benefits and risks as well as organizing and governing resources. In this article, Mirco Wienen Sentia Consulting CTO presents the most common cloud adoption pitfalls that you can learn from as discovered by more mature cloud adopters - all to mitigate cloud risks and speed up adoption.
Cloud plays a strategic role in enabling digital business by addressing common IT constraints, such as rigidity, limited resources, high maintenance loads, and incompatible systems. Cloud frees IT from running systems of record for the business and enables IT to focus their time and energy on systems that support innovation and growth.
However, cloud migration is not a one-size-fits-all solution due to the technical and non-technical challenges surrounding each organization's cloud adoption. Successful cloud initiatives require infrastructure & operations leaders to strategize, plan and demonstrate business impact – but above all, get it right.
That said, we all make mistakes, and improvement is characterized by not repeating those same mistakes. Now, what if you could skip the part of having to make that initial mistake and instead leave that to your predecessors?
Below, I explore some of the challenges faced not just by companies that are beginning to embrace cloud but also those that are optimizing existing cloud landscapes. No matter the situation you find your organization in, to reach your desired destination, you must steer clear of the devastating pitfalls that can impede your cloud adoption efforts.
1. Not having a fully implemented and cross-company cloud strategy
Before hitting the cloud ignition button, two areas are worth keeping in mind:
Have a fully chartered route in place
Ensure everyone follows it
Since many organizational departments are working on their own cloud adoption projects in relation to each of their line of business areas – most often, these initiatives and decisions are not aligned with central IT governance nor business goals. The result is an inefficient cloud approach inhibiting its very own potential to impact overall business strategy positively.
Securing that all-important cloud strategy is the common ground and what aligns the entire organization on objectives and key adoption criteria, which reduces the risk of overspending and prevents delays caused by misaligned priorities.
Avoid this first severe mistake and take ownership in creating your cloud strategy that defines your organizational point of view on the role of cloud, supported by an executive stakeholder in the form of a living and shareable document that evolves with your business goals.
2. Turning a blind eye to the role of a cloud center of excellence
In my other article: "Take the lead with a Cloud Center of Excellence", I explain why the Cloud Center of Excellence (CCoE) is the answer to how you as a business ensure that a migration to the public cloud runs smoothly and in a structured manner. To sum up, the CCoE holds at least three responsibilities within a company:
Governance: Create cloud computing policies and select governance tools.
Brokerage: Help users select cloud providers, architect cloud solutions, and collaborate with the sourcing team for contract negotiation and vendor management.
Community: Raise the level of cloud knowledge in the organization by capturing and disseminating best practices.
However, as companies embracing the cloud, delay or even fail to form the CCoE, their cloud adoption roadmap and their distinct stages are left unmanaged and ungoverned. The role of the CCoE is to assess deployments and secure their architectural integrity, reliability, and security. Hence, implementations without the governance of the CCoE risk resulting in costly redeployments.
As you can imagine, cloud architecture is the keyword here, which is why the CCoE includes, among other roles, the -both technical and business-oriented cloud architect, experienced in cloud adoption projects and responsible for defining the cloud strategy and securing key stakeholder sponsorship.
3. Migrating unfit workloads and choosing the wrong vendor
Selecting workloads or applications that are poorly- or not qualified for cloud migration is like traveling to a location that is not your final destination – sure, you've gotten somewhere but to reach your end goal, you have to start over again.
The identification of which workloads and applications represent the best candidates to migrate to cloud is a central implementation question that shouldn't be overlooked. Where most organizations only use a short set of technical criteria to determine the application's readiness for cloud migration, performing a complete assessment that takes in both the business value and technical feasibility is the best practice for identifying workloads that holds key strategic importance. This approach will save you deployment time and effort.
When selecting the right cloud service provider based on these workloads, it is similarly important to account for more than just the technical capabilities. Locality, business factors, cloud service quality, and industry presence are key areas to look for. Do read the article of my colleague on how to assess the quality of a cloud service provider, covering this subject in detail.
4. Maintaining existing management practices regardless of cloud maturity
The status quo is persistent and resistant. But the quo will quickly lose its status, and defending it will get you nowhere. So, when heading out on your cloud journey, believing that current on-premises governance and management procedures are valid for cloud is a pitfall you need to steer clear of.
If you change your management and governance practices before integrating new cloud resources into existing tools and policies, this requires less time and effort than changing them at a later point. As the organization's cloud maturity improves, adopting management practices that evolve with it requires three things:
The right balance between self-service enablement and governance
Monitoring to uncover insight and continuous optimization of availability, performance, and cost
Automation to increase business agility, limit human error and manage an ever-growing set of cloud resources
___________
Lead the way in your cloud adoption
Start strong on your cloud journey with these resources covering valuable insights and best practices from our cloud experts for you to lead the way in your cloud adoption.