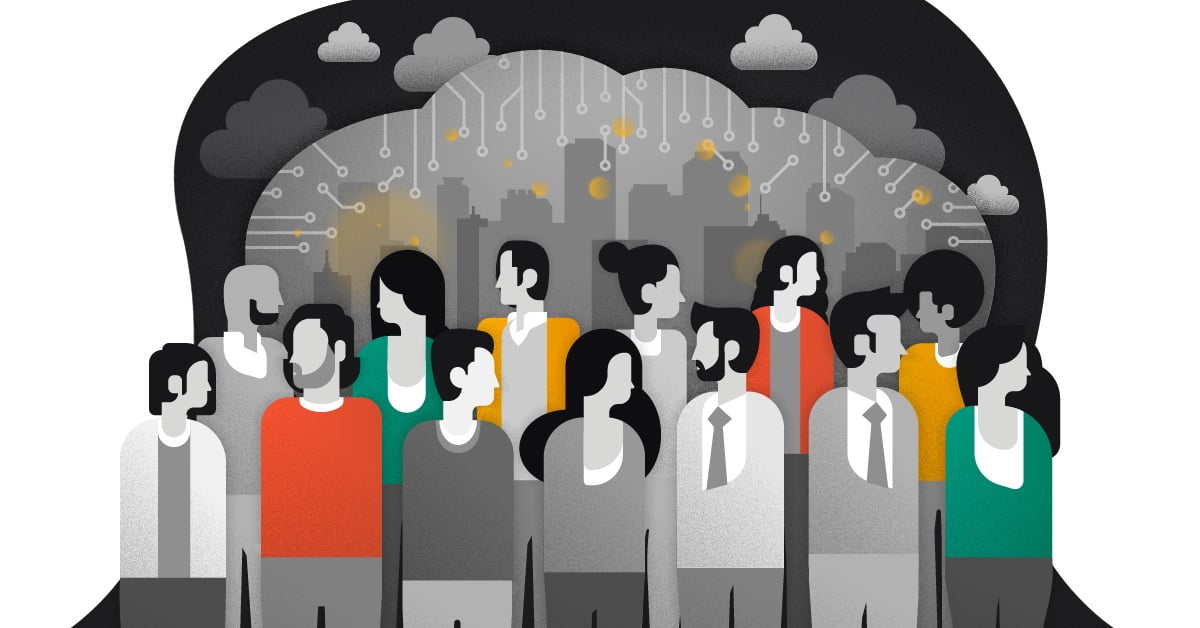 Depending on how cloud-ready your organization is, embarking on a cloud journey can become an expedition into unknown territory. This applies to the company as a whole, but it also applies – perhaps to an even greater extent – to employees. Lars Stigaard, Head of Public Cloud at Sentia Denmark, shares insights and advice.
If you want to ensure a successful start of the cloud journey, a smooth process, and lasting results, you will need to work with change management in the organization. You must uncover the organization's competencies, define the necessary changes, and not least motivate for change to secure a successful migration. Putting people and processes before technology is an indispensable part of the cloud journey.
Adoption is not just a matter of technology
The successful migration to the cloud is about much more than just technological solutions and spreadsheets. Employees need to get used to doing things in new ways, and they need to rethink work routines and tools. This places demands on the workforce and cannot be done overnight.

For the affected employees, this is often a paradigm shift, and it is necessary to address the tasks, the goal, and the resources well in advance. People and processes weigh heavily when the organization needs to migrate to the cloud. And since far from all employees have been part of the initial preparations, it is important to get them on board in a good way.
Where are the biggest obstacles among the staff?
The management of a company always runs the risk of underestimating what happens when employees are challenged on their routines. It is a challenge to have to think in new ways, and therefore habitual thinking is a substantial obstacle among employees when it comes to migration to the cloud.

It is important to turn this into something positive. The internal resistance also stems from the fact that the employees want to use their professionalism in the best possible way and make a difference for the company. With new work routines in the cloud, you are challenged on your professionalism and may become a little less efficient for a while. So how do you make the process a good experience?
Keywords for an employee-friendly experience
First and foremost, it is important to consider the individual skills and work situation of the employees. No one starts from scratch because everyone has a set of prerequisites, and therefore it is important to meet them where they are. Some are by nature always extremely adaptable, while others are more reluctant.

If you need to embrace the full breadth of the workforce, the keywords are clear and simple communication as well as a realistic schedule. Explain the cloud plans in plain words and describe the purpose of the exercise so that it is understandable. Why must we migrate to the cloud? What benefit does it bring to the business? What benefits can you expect as an employee?

The realistic schedule must consider that the employees have not been part of the previous preparations up until now. Be patient and set realistic goals. Otherwise, the process risks running off track.
Concrete tools for dealing with the change processes
Cloud migration is a process that concerns all employees in an organization and their everyday lives. So even though Sentia is first and foremost a managed cloud service provider and not an HR company, we are so deeply involved in change processes that we often work on projects closely related to human resources.

Therefore, I want to add two areas - two concrete tools - that can prioritize people before technology:

Appoint ambassadors who can help facilitate and promote the process. It can be professionally strong employees, it can be the biggest motivators, or it can be some of the employees who may be professionally strong but also express opposition to the project. It all depends on the dynamics of your organization what makes the best sense.


Mark some realistic touch points during the process so that everyone involved is aware of the progress. It is important to see the 'light at the end of the tunnel', and touch points help illustrate that the organization is moving towards the goal, especially if it is communicated clearly when the individual touchpoints are reached

.
_____
Lead the way in your cloud adoption
Start strong on your cloud journey with these resources covering valuable insights and best practices from our cloud experts for you to lead the way in your cloud adoption.

BY
Lars Stigaard, Team Lead Public Cloud at Sentia with many years of experience within Management, implementation, and IT-systems operations. As certified in AXELOS Best Practice, International Leadership, self-employed CISO with two decades of work within development and management, he covers several IT disciplines, hence his work and counsel is appreciated among companies.