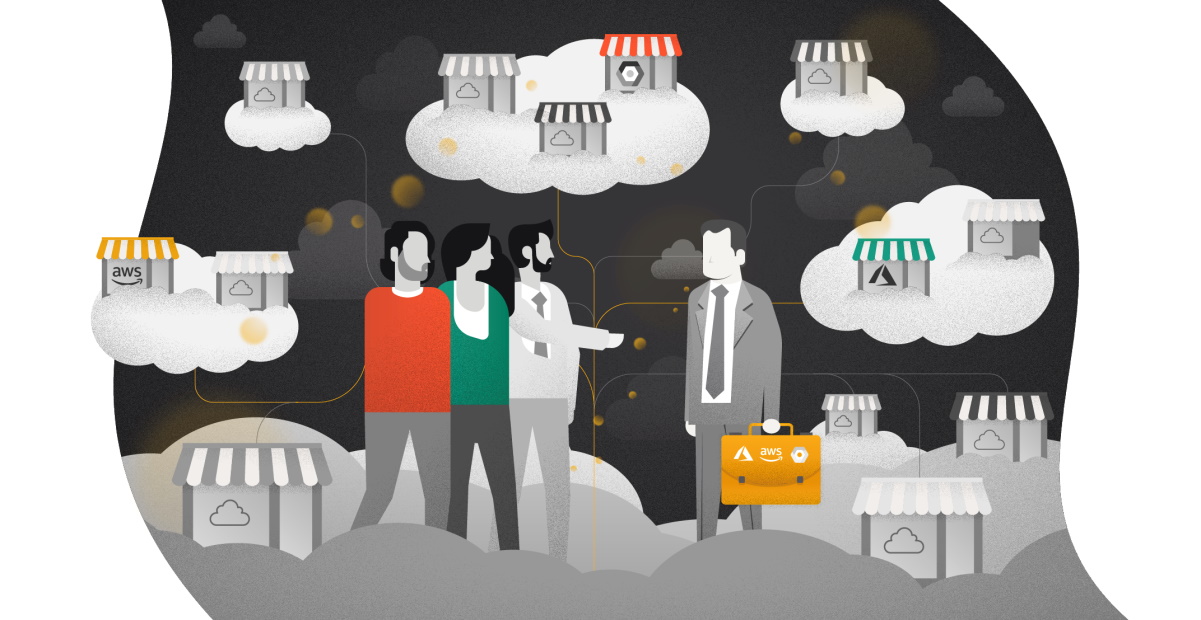 Cloud brokerage offers a way to handle a multi-cloud strategy while also ensuring full transparency for management. Henrik W. Antonsen, Head of Public Cloud, unfolds perspectives and potential.
As digital transformation gains momentum, many organizations use multiple vendors and different models to leverage the cloud benefits and drive the business forward. There are a wide variety of vendors on the market, and it can be difficult to assess the best choice for the various workloads and applications.

Furthermore, LOB managers often make their own individual decisions, which forces central IT to work with a multi-cloud infrastructure that is not necessarily aligned with the company's business structure or strategy. This is where cloud brokerage can step in by supporting multi-cloud and management control.
Support of the optimal vendor selection
How do I get the most out of the cloud? This is a question more, and more managers are asking themselves, as the cloud not only delivers benefits but also raises a number of challenges, such as cost control and how to take advantage of the agility it can bring to adapt and transform the business.

For many businesses, a multi-cloud strategy is a tempting option that enables the user to take advantage of the different platforms where they make the most sense and offer the greatest benefits. Cloud services brokerage (CSB) is a relatively new avenue to choose from, but many businesses have found it an excellent way to bring together multiple vendors on a single platform.

With cloud brokerage, businesses can leverage the individual strengths of the various vendors and use them to their advantage. The typical vendor selection criteria include security, availability, price, or the specific business application.
Adding value to your cloud services
The features covered by cloud services brokerage can be seen as a dynamic marketplace for enterprise-approved services. It also serves as a way of ensuring optimal integration between cloud services and on-premise applications, which helps ensure enterprise data is secure in the cloud while paving the way for customized services on top of the standard cloud services.

Seen in that light, CSB can add value and transparency to a company's use of cloud services. The choice of the right vendor and the optimal service for the tasks is an important component in ensuring the integrity and correct composition of the cloud architecture. The question then is whether this function should be performed internally or externally in the organization..
External CSB can optimize the cloud solution
Cloud computing has long become a fact of life for dynamic companies. The question is how many companies and organizations have cloud brokerage on the radar as part of the strategy behind the ongoing optimization of their cloud solution. Whether it is an internal or external service, the requirements are great transparency and widespread sharing of knowledge to achieve the goals.

A few enterprises and large organizations may have developed in-house cloud brokerage services, but they are still the exception to the rule. Typically, an external partner such as Sentia will offer cloud brokerage services for its customers. This entails several benefits for companies that do not have the internal expertise to compare all the advantages and services from different cloud vendors and thus lack sufficient resources to negotiate the most attractive agreements.

By using an external partner, or third party, to facilitate a multi-vendor strategy, companies of all sizes can work with greater flexibility in their choice of platform and benefit from a wide variety of advantages, not least in pricing. A managed service provider can negotiate advantageous deals and pass on the benefits.
A natural area of responsibility for the CCoE
I have already touched on how the increasing complexity of today's IT makes it a challenge to develop and optimize a company's cloud solutions. As mentioned, with hybrid solutions, distributed cloud environments, and a myriad of services in play, there is a risk that various services will be used autonomously, thus increasing shadow IT or the use of IT systems and services without explicit approval from the central IT department.

This can be counteracted by well-functioning cloud brokerage, and organizationally it can take place through the company or Cloud Centre of Excellence (CCoE). The CCoE is responsible for the central management of cloud services by gathering all the expertise in one place, as well as providing frameworks and guardrails for cloud projects.
_____
Lead the way in your cloud governance
Get in control of your cloud governance no matter your context with these resources covering valuable insights and best practices from our cloud experts for you to lead the way in your cloud governance.

BY
Head of Public cloud at Sentia with many years of experience in the IT industry from, among others, Cloudeon, Crayon, and Hitachi Vantara. His work covers business development and management - and his professional consulting is valued greatly among customers and his Team. As Head of Public cloud, Henrik works with particular attention to execute the customers' digital transformation and control their business' cloud infrastructure.