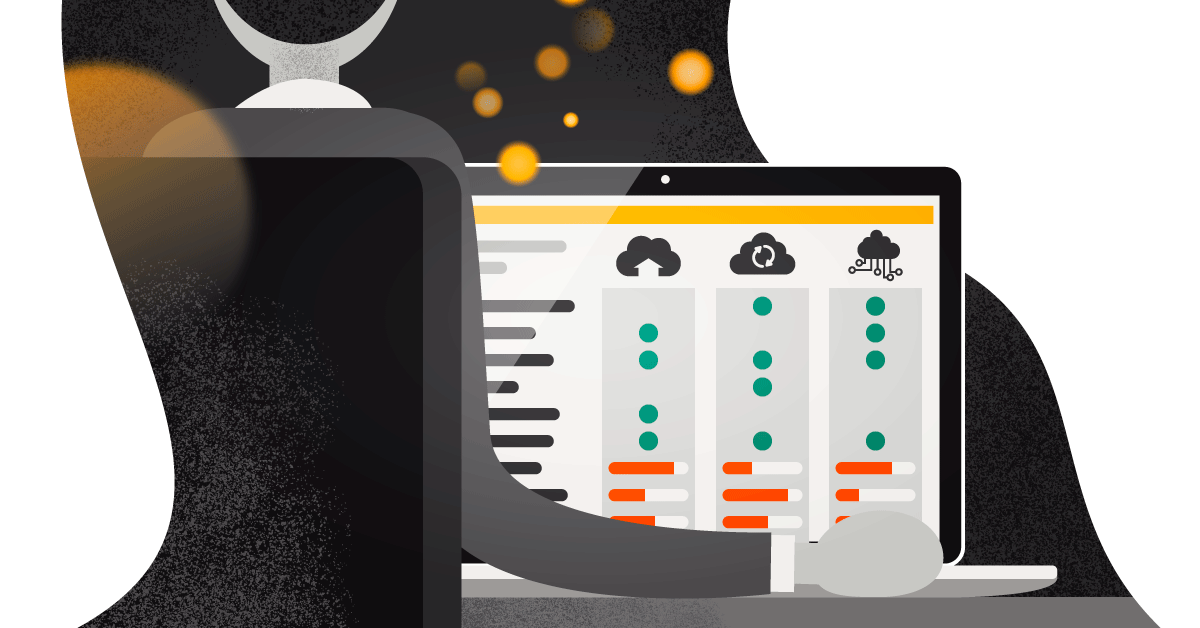 A cloud solution provider can benefit a business and handling project needs from concept to installation to support. However, when sourcing a cloud solution provider, careful research is paramount, as to make a mistake could end up costing both your business and your compliance reputation.
Ask yourself the following questions:
Q. Do you have former experience with the provider?
Q. Does someone in your network have relations with the provider?
Q. What recommendations are out there, and what do they entail?
Aside from the above considerations, above all, it pays to investigate their IT compliance and data governance, along with their accordance with regulations and international standards of IT services. However, such research can be overwhelming, with each regulation as complex and comprehensive as the next.


Quality assessment standards to look for
The following will list four quality assessment standards and certifications, which should be part of your search for a new cloud provider. It is described why each one is particularly imperative for a provider to own and why they are worth noticing.
1. IEC/ISO 20000 is the International Service Management System standard (ITSM), specifying the service provider's requirements to design, transition, deliver, and improve upon agreed services.
ISO 20000 helps organizations benchmark on how they deliver managed services and assess performance. It also draws strongly on ITIL, which we will discuss below.
2. ISO/IEC 27001 is the international normative standard for information security specifying requirements for implementing and maintaining an Information Security Management System (ISMS).
Information security covers more than information controlled by IT, surpassing both employee and organizational competencies, physical settings, and documents.

Compliance with this standard means that the service provider is in sync and on top of intangible assets such as financial data, intellectual property, along with customer and employee data.
Please pay attention to ISO/IEC 27001, as it assesses an individual organization's risk profile, with the secure implementation of security measures and control procedures relevant to the organization. This certification ensures a high standard of quality is maintained, emphasizing the engagement of top management and proactive decision-making on what procedures to be implemented and how.
3. ITIL, (IT Infrastructure Library), is an approach to IT Service Management. ITIL is relevant for IT organizations as there is a need for more customer-oriented solutions focusing on service than technology.
Common grounds are formed for agreed-upon and achievable service levels, predictable and consistent processes, and efficient service delivery, which can be measured and continuously improved. This streamlined flow results in a faster resolution of customer challenges.
4. ISAE 3402 is an assurance standard and represents 'International Standard for Assurance Engagements.' It is an external auditor report on the provider's internal quality controls. The auditor controls the provider's descriptions, design, and operation of controls related to the report's described objectives. In ISAE 3402, auditor reports are classified as either Type I or Type II:
- ISAE type 1. An outline of the organization's controls.
- ISAE type 2. Shows the effectiveness of controls since implementation.
There you have it. Four imperative quality assessment standards and certificates to look out for when choosing a cloud solution provider. Sentia recommends the providers' degree of compliance in the quality assessment, as it indicates the quality standard of the provider and your organization.

Keep an eye on the cloud qualifications
It requires trust in the provider's qualified skills and expertise to manage and operate its cloud infrastructure and business-critical applications. The market-leading cloud providers offer all certifications to vendors, developers, architects, and technicians who specialize further and obtain expertise within specific services.
Below, we have selected the highest certificates available for managed service providers across the market-leading cloud providers, namely, Microsoft, Amazon, and Google.


Azure Expert Managed Service Provider
In line with organizations often choose a public cloud setup, it is imperative to have a partner with substantial cloud expertise to guide you. While the market directs towards the cloud, many companies are concerned with dealing with a complex IT environment. That is why companies reach out to cloud partners to assist them in obtaining their expected business results. Not only do companies need a partner who is familiar with their IT setup, but also one who consults about their cloud strategy and ensures it matches the company.
Azure Expert MSP is an elite status designed to emphasize the most competent partners and their ability to provide advanced cloud expertise. Only a few managed cloud service providers worldwide are chosen as Azure Expert MSPs as the highest possible standard within Microsoft Azure.
The status as Azure Expert MSPs helps identify which advisor to trust and who can help you best on the cloud journey and fully manage your cloud environments. As a decision-maker, you can locate competent providers with validated expertise to ensure the partner has documented their expertise through detailed audits.


Amazon Web Services Managed Service Provider
"Where do we begin, and how do we balance a quick manageable development and infrastructure?" These are questions an AWS managed service provider can answer.
AWS MSPs can help solve business challenges and support main activities to create business-growth through expertise, consulting, and services for a successful AWS-migration and optimize workload on every stage in your cloud journey. They continuously monitor performance, usage, and patterns to identify expenses and performance optimizations and where customers can benefit from the newest launched technologies.
The certification of AWS MSP acknowledges the leading providers who are specialized in delivering complete solutions and develop your business.
An impartial third party means you can navigate easily among the qualified AWS managed service providers who deliver proactive and continuous guidance.
Through professional services and in-house solutions, support, and expertise, the providers design these bulletproof cloud solutions that meet the strict compliance demands and customer needs.


Google Cloud Platform Managed Service Provider
A qualified managed service provider offers companies proactive services from operating workloads to supporting dedicated technical experts who tackle complex migration and optimization projects. GCP MSPs support the company's cloud journey with broad and deep knowledge in Google cloud technologies and the processes. They are continuously invested in developing competencies among dedicated technical resources to support the Google Cloud Platform's use.
Google cloud partners are divided into specializations that ensure transparency in the Google Cloud platform experience and the specific advanced competencies. Partners undergo an advanced technology assessment. They have employed certified experts, demonstrate continuous success with customers, and ensure a business plan for investing in the specialized area as application development, cloud migration, data analysis, infrastructure, and security.

BY
Quality Assurance Specialist, skilled in IT Service Management, IT Strategy, Management, and Project Coordination with seasoned professional specialization in ITSM/ISMS/Business excellence including Risk Management.