Gantner offers complete ticketing systems for cultural heritage, museums, theatres, amusement parks, and zoos. Gantner was looking to complement their acclaimed ReCreateX® platform with cloud ticketing & reselling solutions.

In its markets, the single-most important business driver is the cost-perticket. For Ticketing applications, Gantner therefore also sought to make full use of AWS' potential to cut unnecessary costs in multiple ways.

Lastly, the organisation requested a containerised solution to focus on its advanced development methods (and steer clear from 'virtual infrastructure').

Why focus on containerisolation?
The hard requirement of having a containerised platform stems from Gantner's drive to keep ahead of the ever-increasing calls of customers for more software features / functions, more quickly delivered, and all this more reliably.

The container that holds the actual software runs independently of the underlying platform. It also contains dependencies (such as a runtime that is needed), making it much easier to move the container across infrastructures. Gantner uses this to
promote its software quickly and reliably throughout the various development stages.

Since the containers are highly 'infra-independent', their developers save substantial time and efforts that would traditionally have gone into the debugging of infrastructurerelated issues.

Best of all: the developers can rest assured that the application will function the same, regardless of which OTAP/DTAP stage it is in – which frees them up even further for their core activity: delivering more software features, more quickly, more reliably.
AWS Elastic container service allows us to easily manage our docker container fleet. With Sentia managing the underlying AWS environment, we focus on what is most important: our customers. Dimitri Degraeve - CTO Gantner BENELUX
AWS-Accredited managed service partner (MSP)
The AWS environment on which the containers land, is managed by Sentia - an AWS-audited and certified 'Managed Service partner (MSP'). Through yearly audits, AWS closely scrutinise our operations, organisation, and knowledge of AWS technologies that together are the hallmark features of a capable and reliable business partner.

This means that Gantner is assured yearly of our continued ability to meet the highest standards for Design / Operations, as well as the maturity of our organisation at large. See: https://aws.amazon.com/partners/msp/

Even more flexible, powerful: Micro-service architecture
Gantner purposefully chose for a micro-service architecture as this allows the application landscape to be divided into multiple modular services. These are independently scalable and are developed – and even versioned! – individually. This, the solution has now become even more flexible and powerful than it already had been. True to Sentia's design principles, the platform is designed to operate largely autonomously and it reacts to real-life events (the 'Event-Driven Architecture').

For example; it takes low-level parameters such as CPU and memory usage to decide to automatically scale out the environment within only minutes. If Gantner however foresees an extreme spike in the number of concurrent users – say, when selling tickets for a massively popular concert – they can also manually scale out their environment. This way, Gantner even prevents the short delay that is inherent to the built-in automated scaling function.
Gantner can directly influence their managed virtual environment, without any penalties to the agreed service guarantees. - Mirco Wienen, CTO Sentia Managed Public Cloud
Cost-efficiency in a demanding market sector
Scaling up only when needed, already saves substantial costs. Gantner however takes this concept one significant step further… The organisation can turn its Development environment on and off at will, so that it won't generate unnecessary costs when
not in use.

Because of these savings, Gantner could outfit its Development environment to mimic the Production environment very closely – thereby reducing the chances on 'infrastructural difference bugs'. This in turn reduces the costs of debugging and again frees up their developers for their core activities.

Take the tour: www.envisio.io - 'every visit matters'
To get to know the innovative business solutions that the platform has on offer, do check the Enviso website. Existing ReCreateX® customers will value the add-on functionality on the traditional back-office solutions, and everyone involved in Ticketing will find exciting possibilities to extend their businesses quickly and easily.

At a glance
Today, Enviso delivers these categories of business services:
Offer Management – Ticketing creation & publication.
Partner Management – Identify, connect with, and manage resellers.
Venue Management – Comprehensive financial management suite.
Reselling options – Easy, efficient access to resellers and related technologies.
ReCreateX® integration – powerful expansions on (and integration with) the
acclaimed ReCreateX® platform.
We're quite sure that you'll now understand why Enviso's tagline is: 'every visit matters'.

Technical highlights
Built on the cloud, for the cloud.
State-of-the-art environments that use Docker containers in conjunction with selected resources from the pool of AWS' Serverless computing offering.
Employs the immerse power of API Gateway with the backend in Docker (AWS Elastic Container Service), maintaining the environments exclusively through
Infra-as-Code (AWS CloudFormation).
A CI/CD workflow that enables independent patching of each environment whilst
ensuring cohesion, continuity, and unique workflows for each Micro-Service.
Built in accordance with the AWS Well-Architected Framework and its Security
Best Practices. Also complies with various other Best Practices and Sentia's own
standards including our 'Design for Failure' strategy, honed since 1999.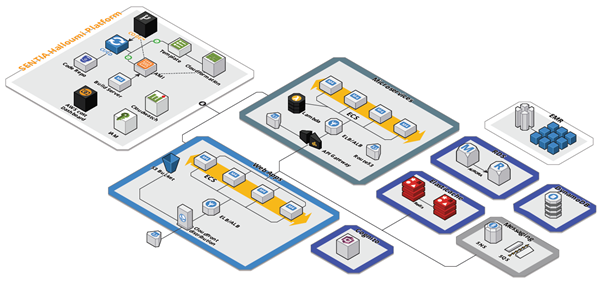 AWS services used
Amazon EC2
Amazon Elastic Container Service
AWS Lambda
Elastic Load Balancer (ELB)
Amazon RDS
Amazon DynamoDB
Amazon Athena
Amazon CloudFront
Amazon Route 53
Amazon Simple Storage Service (S3)
AWS Cloudformation
Amazon Simpe Queue Service (SQS)
Amazon API Gateway
Amazon CloudWatch
AWS Identity and Access Management
AWS CloudTrail
AWS Trusted Advisor
Amazon Cognito
About Gantner
Gantner, with offices in Belgium, the Netherlands, England, and India, specialises in ticketing and leisure management solutions for the arts and cultural sector, visitor attractions, and leisure industry. In addition to its acclaimed ReCreateX® platform (admissions software), the portfolio entails IT infrastructure development, network management, access control systems, camera surveillance, and even building management systems. Customers can rely on the company's decades' worth of experience – and on its professionally, as demonstrated by the multiple certificates that Gantner holds. These include: ISO 9001 (Quality Management), ISO 27001 (Information Security Management), and VCA (the Dutch framework for 'Safety, Health and Environment Checklist for Contractors').