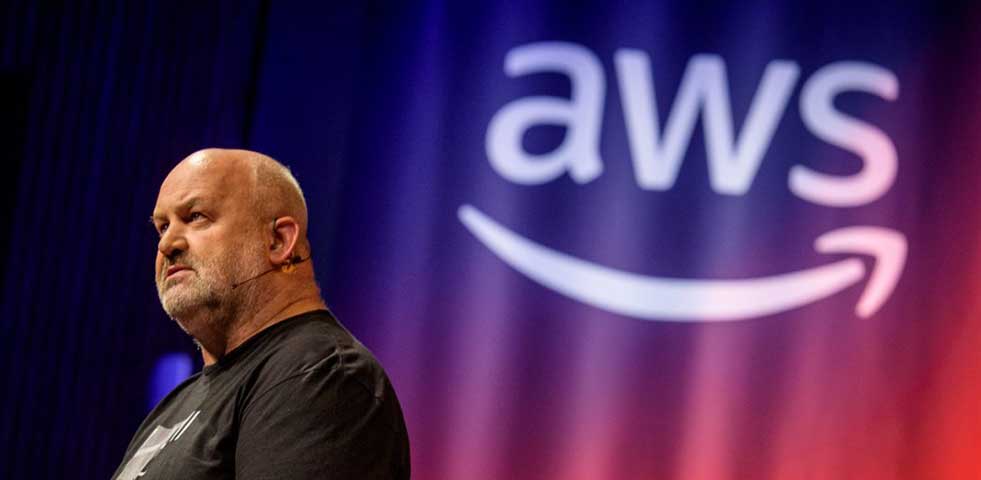 AWS Summit is all about cloud computing and how the cloud is accelerating innovation in businesses of all sizes. Hereby a few of the highlights:

Services
In the opening keynote speech, Werner Vogels (CTO at Amazon.com) showed how AWS evolved from 'just' an IaaS company to now offering more than 125 different services. It is nice to know that more than 90% of the developed services were based on customer feedback from the last couple of years.
Growth
That is probably one of the reasons why AWS is growing so rapidly and customers are adopting the AWS platform. Kamini Aisola (Head of Amazon Benelux) presented the growth pattern of AWS with an increasing growth of 49% compared to last year!
For the builders
AWS is constantly thinking about what builders want to build (in the cloud) and what kind of tools those builders require to be successful. According to the latest trends, engineers or builders should spend less time focussing on lower level-infrastructure and, by leveraging the services that AWS has to offer, they should start focusing on delivering business value instead.
The state of Machine Learning
AWS wants to put machine learning in the hands of every developer and data scientist. To achieve this mission, AWS is currently offering a layered Machine Learning stack going from low-level libraries to pre-built features. These services are built in such a way that engineers can decide at which level of complexity they want to start using the ML services offered by AWS. Most of the time, data engineers and data scientist will start from either SageMaker or even lower, but most application developers might just want to use a pre-built feature like image recognition, text processing, speech recognition and more.

AWS moving to Kubernetes
A few years have passed since Amazon added container support to their offering with Amazon Elastic Container Service (Amazon ECS). This allowed Amazon ECS to help customers run containers on AWS without having to manage all servers and manage their own container orchestration software. Today Amazon is offering Amazon EKS (managed Kubernetes on Amazon) after they noticed that about 63% of managed Kubernetes clusters ran on AWS. As you may know, Kubernetes has become the current industry standard when it comes to container orchestration.
Serverless containers
Amazon now offers Amazon Fargate, which allows you to focus on running containers 'without having to think about managing servers or clusters'. This removes the need to choose server types, to decide when to scale your clusters, or to optimize cluster packing and lets you focus on designing and building your applications instead of managing the infrastructure that runs them.

The Well-Architect framework
The Well-Architect framework has been developed to help cloud architects run their applications in the cloud based on AWS best practices. When implemented correctly, it allows you to fully focus on your functional requirements to deliver business value to your customers. The framework is based on the following five pillars: Operational Excellence, Security, Reliability, Performance Efficiency and Cost Optimization.

Security is EVERYONE's job
With all the data breaches happening lately, security should be everybody's number one priority these days, as Werner Vogels said. According to AWS, they make the implementation of this security easy and cheap. So there is no longer an excuse not to encrypt data and connections.


Continuous Development & Delivery
Clare Liguori, software engineer for AWS Developer Tools zoomed in at the different tools provided by AWS to support the full development and deployment lifecycle of an application, which is based on five major phases: Source, Build, Test, Deploy & Monitor.


Cloud9
AWS Cloud9 is a cloud-based integrated development environment (IDE) that lets you write, run, and debug your code with just a browser, meaning you can work on your projects from your office, home, or anywhere using an Internet-connected machine. At the Benelux Summit, Clare Liguori, Principal Software Engineer for AWS, modified some code in Cloud9(the online IDE), debugged some code, ran CI jobs, tests and deployments all from within her browser and pushed a new change to production within only a matter of minutes. It shows how far the current state of being a cloud-native developer has really come.

GDPR
As companies are still implementing changes to be compliant with the GDPR, Christian Hesse looked at 4 different aspects of GDPR: The right to data portability, The right to be forgotten, Privacy by design and Data breach notification. AWS as the processor of personal data and the company using AWS being the controller are both responsible for making sure data remains secure.

Continuous Transformation
To end with a fantastic quote: "The only thing that will not change, is change."

BY
Peter Snauwaert - page - en